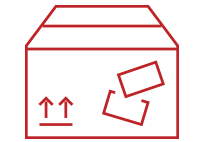 Archiving & Document Moving
Create space and save money
As a company you are obliged to store documents and files for a certain number of years. The amount of documents to be archived takes some companies beyond their limits in space and administrative capacities. This is where Christ can help you. We take care of storing and administering your documents, you save time, money and space and can concentrate on your core business. To give you the highest possible transparency we can invoice all archiving services by cost centre.
From filing to delivery
As a strong partner in logistics we provide large storage capacities. Combined with our processing, commissioning and despatch services you can be sure that archiving will never cause you headaches again. And thanks to our on desk services we supply your documents fast and to the right place. We can also file your documents continuously, process them and enter the necessary data in your archive.
Locating documents
It is time to write your annual report and you require several specific documents for it. Not to worry! We enter and tag your files based on a systematic and customized indexing system. Our computer aided storage system locates your documents easily so that we can provide you with them extremely fast.
Contact form
You still have questions? Simply fill out our contact form and we will get back to you as soon as possible.
contact form