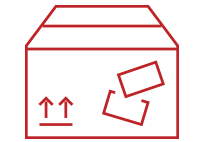 Moving to Spain? Relay on a leading European Company from Germany
Do you want to or have to move to Spain? Are you looking for Spain removals? No matter where you are headed, whether professional or private concerns are the reason – removals to another country like Spain requires a lot of work. Your entire belongings must be transported safely and you will face many new challenges in your new home. You have to get used to a new environment, new surroundings and possibly learn a new language. At least you have to deal with numerous authorities at the beginning. In this situation it's very helpful that your move to Spain is as smooth and stressless as possible. Christ is a removal service with many years of experience all over the world and so we can you with all your requests.
Smooth removals to Spain with Christ Logistik
How do I get my entire furniture from my house safely to Spain? Which moving company can help me best with my removals? And what is all this supposed to cost? These and other questions will come up when you are going to move to Spain, but don't worry: We are the professionals when it comes to Spanish and international removals and we have many years of experience. We take care of a smooth transport and process of your removals across Spain, Europe and worldwide. You are interested in part load possibilities or other special services? Make up your own mind of our service and get a personal offer for all of our services and especially for your move to Spain. We are happy to hear from you!
Christ Logistik – your moving company with experience
Spain, the country on the Mediterranean Sea and Atlantic Ocean with its capital city Madrid is a member of the EU and is not only one of the most developed countries, but also one of the largest nations for imports and exports in Europe and worldwide. In the industrial sector Spain also offers a wide range of opportunities for employees from Germany and other European nations. But it's not just the working world that is a reason to visit Spain – it also has a lot to offer in terms of tourism and is also a paradise for emigrants. Cities like Madrid, Barcelona and Malaga and the numerous beach sections on the east and west coast are the most popular regions in this beautiful country. Removals to Spain? Trust Christ Logistik – your partner for international removal.
Safe removals to Spain
As a global freight forwarder, we are very familiar with the topics of part loads, furniture transport and Spanish import regulations. As a family-owned international company, we guarantee the safe delivery of your personal goods in one or more of our company's own trucks and vans. We also have the right packing for all your items. Would you like to find out more, do you want to get some advice or do you have any questions about what you exactly need when moving abroad to Spain? Take a look at our FAQ and convince yourself of our outstanding service. On request, you will also receive an individual offer from us tailored to your wishes and needs for your removals to Spain.
Moving to Spain? With Christ removal services you are in good hands
Are you about to move far away? Do you want to emigrate or change your place of residence for professional reasons? Are you looking for a reliable partner that offers specials like part loads and operates internationally? Then you have found the right partner with us. No matter whether Barcelona or Malaga – customized moving solutions are not just empty phrases for us. There are a lot of removal companies, but only Christ Logistik offers you everything you need on site for your removals to Spain. We do not only address working people, but also pensioners and emigrants. If you have any further questions, please have a look at our FAQ or contact us today. We will get back to you as soon as possible and make you a suitable offer for your removals to Spain. So that your personal belongings are in the best hands.
Contact form
You still have questions? Simply fill out our contact form and we will get back to you as soon as possible.
contact form