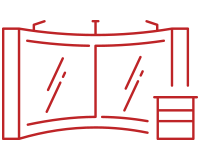 Transportation and Storage
Safe Transportation
The logistics around your trade fair presence has many challenges: your booth must be delivered at the right time at the right place, so that the construction of the booth can be completed in time for the start of the trade fair. At the same time, damage to the booth, accessories or even exhibits must be prevented.
Until next time – storage of your booth
Booths are often very extensive and require a lot of storage space. We are happy to provide you with this. We distinguish between guarded dry storage areas and individual storage containers in our own logistics halls. Naturally, we also clean and maintain your trade fair equipment for you.
Our performance portfolio:
Transportation
Safe transportation with state-of-the-art truck equipment
Smooth operation thanks to extensive pre-commissioning of all parts directly in the warehouse
In-time transportation and removal of your booth
Storage
Storage in lockable containers or company-owned logistics hall
Recording and listing of all parts including fotographic documentation
Maintenance and cleaning of your booth and accessories
Changes for the next trade fair? With pleasure!
If you need adjustments to your booth, new images, different coloring or a new design, we are happy to assist you. From printing the stickers to the foiling of individual elements or the entire measuring stand – everything from a single source.
Contact form
You still have questions? Simply fill out our contact form and we will get back to you as soon as possible.
contact form