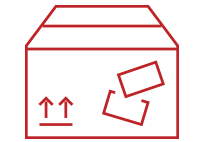 Detailed planning saves time and money
Moving a complete office, like the administration of a company, governmental institutions or an archive is a particularly complex job in terms of planning and timing. Smooth transit is crucial because your employees need to continue their work in the new location without delays. Relying on our experience with office moves you will save a lot of time and money. In the planning phase our advisors support you, analyse the situation on site and devise a detailed plan that meets all your needs. A personalized manual informs you and your staff about the exact procedure of your move.
Removal services from A to Z
Fast, reliable and hand in hand. In every project a variety of removal specialists work together closely. If necessary they will even set up your IT system or take over other installation jobs. Disposing of old files or furniture or cleaning your previous home can also be left to our crew. Our project managers coordinate all steps and are available for you whenever you might have a question.
Contact form
You still have questions? Simply fill out our contact form and we will get back to you as soon as possible.
contact form