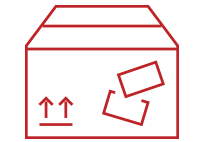 Satisfied emplyoees are the key to success.
As a long-term partner of large enterprises, we arrange relocations for your employees in case of professional transfers, site relocations or the entry of a new employee.
No matter whether it is a national or an international relocation, we guarantee a relaxed start in the new workplace.
Christ offers:
Framework Contracts for pre-determined and consistent pricing and subservices.
Your employees benefit from:
Professional, competent and free consulting and advisement
Non-binding proposal preparation
Transport-proof packing: standard and special packing
Disassembly and reassembly of furniture and kitchen
Advance delivery of packing material
Electrical and sanitary work
Setting up no-parking zones
Unpacking service
Intermediate and long-term storage
Your benefits:
Satisfied and relaxed employees.
Fast, reliable and competent processing and handling of your employees' relocation.
Contact form
You still have questions? Simply fill out our contact form and we will get back to you as soon as possible.
contact form