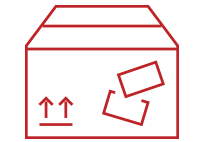 As an experienced removals company we know what is essential when moving. No matter if you move only one floor higher up in your building or from one city to another. We'll take care of the complete move – from packing and unpacking your belongings to dismantling and assembling your furniture. Our portfolio also includes installation works on the electric or sanitary system of your new home, cleaning your previous home and storing your furniture. Just trust the expert at Christ and enjoy a stress-free move with us.
Be on the safe side
Handling your possessions with greatest care is our top priority. To pack your furniture and household belongings a variety of special packing material is available. This ensures safe transport from door to door. Just in case an item does get damaged, you are still on the safe side with us. All your possessions are insured so that the normal risk through damage in transit is nonexistent.
Personalized and flexible
To ensure your move runs smoothly, we personalize our quotation to provide exactly what you need. Our advisors visit you and assess the special requirements that your move involves – the visit of course is free of charge.
Relocation within Germany – prices-/volume-overview
The below-mentioned prices are non-binding mean values, based upon experience of Andreas Christ GmbH. These prices are meant to act as guidance for you to approximate the cost for your relocation. Please get in touch with us to receive your individual quote – if you require optional services like packaging or disassembly, please mention this in your message. We are more than happy to assist you.
All prices including 19% VAT
1-2 rooms up to 60 qm
2-3 rooms up to 80 qm
3-4 rooms up to 120 qm
House/Apartment over 120 qm
Relocation volume
10-20 cubic meter
15-40 cubic meter
35-60 cubic meter
over 50 cubic meter
Regional
up to 50 km
from 300 €*
from 500 €*
from 1000 €*
from 1400 €*
Nahbereich
up to 120 km
from 500 €*
from 700 €*
from 1000 €*
from 1500 €*
Fernbereich
from 120 km
from 700 €*
from 900 €*
from 1200 €*
from 1800 €*
Optional services:
Packaging materials
Supply of high quality packaging materials for your furniture and inventory, from 50 €
Wrapping and unpacking
We wrap your furniture and inventory carefully for you. For instance your kitchen supplies, from 50 €
Disassembly and assembly
We disassembly your furniture with caution, from 50 €
*approx. cost, including loading, transportation and unloading.
Contact form
You still have questions? Simply fill out our contact form and we will get back to you as soon as possible.
contact form