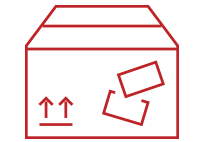 Container storage
You don't have enough space to store furniture, clothes, books and other household belongings in your home? Then we've got the solution to your problem: leave it in our container storage. We store your possessions without re-packing them in cool, dry container warehouses. To provide optimal storage we equip the containers with clothes racks or shelves. Access to the burglar-proof warehouses is only possibly through coded doors and every container is sealed and has a padlock. Of course you can have access to your container at any time.
Optimum storage conditions
By law you have to file documents and records for several years. This means that your archive is growing month after month. But your storeroom doesn't. Why not outsource your storeroom to Christ Removals. We store your documents dry and safe in sealed containers. And our computerized logistic systems ensures that you have access to your files fast and at any time. Our collect and bring systems makes your file search particularly easy. When archiving your documents safety is our top priority. Only authorised people will have access through codes. Monthly access records allow you to track every move of your documents. When you do not need your documents any longer, we will dispose of them meeting the regulations of data protection and security.
Contact form
You still have questions? Simply fill out our contact form and we will get back to you as soon as possible.
contact form