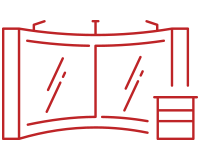 A strong company appearance
Are you looking for a stand that successfully presents your company 100%? Regardless of which trade fair you want to exhibit, whether nationally or globally, we plan together with you your trade show that corresponds exactly with your expectations.
Conclusive trade show concepts
Our concepts for trade show booths are conclusive and are planned down to the smallest detail. In order to achieve a perfect result, we invest a lot of time into consultation and planning. Obviously, we always include your wishes and CI guidelines during the conception and integrate them into our designs. In addition, we rely on a CAD-supported visualization in advance.
Our performance portfolio:
Exhibition planning
Exhibition concept
Furniture & display design
Brand presentation
Strong focus on the integration of wishes and CI requirements into the design
CAD-supported visualization: designs in 3D format
And other services in consultation
Facelift for your booth
You already have a both, but would like to redesign it? We are happy to help you!
Through extensive expertise from decades of activity in the exhibition market combined with a great enthusiasm for trends and technical innovations, our experienced team is looking forward to convincing you and your customers in the form of first-class and highly individual brand presentations.
Contact form
You still have questions? Simply fill out our contact form and we will get back to you as soon as possible.
contact form