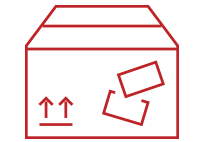 At home anywhere in the world
Do you have a new job abroad? Or is your family or a new challenge waiting for you somewhere in the world? At Christ we look back at a long-term experience in moves abroad, especially overseas. As a competent and reliable partner we take care of every step that is necessary to move out into the great wide world. Our portfolio goes far beyond the usual services of packing, transport and furniture storage – we also support your in insurance matters, customs formalities and taxations issues. All you need to look after is your journey; we'll do the rest for you.
A worldwide network
To complete your move successfully from door to door we rely on a strong network of international partners. Our partners make sure that everything runs smoothly at your destination and that you are not left alone in your new home.
Comprehensive planning
Moving overseas needs to be planned carefully. That's why extensive counselling is important to us. During a personal meeting our advisor defines your specific requirements and arranges a personalized service package for you.
Our services include
Professional, competent and free consulting and advisement
Non-binding proposal preparation
Professional overseas packaging
Furniture and kitchen disassembly and reassembly
Packing and unpacking services
Electrical and sanitary work
Setting up no-parking zones
Arranging transport insurance
Intermediate and long-term storage
Sea freight
Sea freight packaging aligned to the changes of climate zones
Preparation and management of all documentation and customs formalities
Air freight
Air freight packaging
Professional organisation and management of air freight shipments
Professionel Administration of all documentation and customs formalities
Contact form
Do you still have any questions? Simply fill in our contact form and we will contact you as soon as possible.
contact form